2024 Range Rover Velar vs. Cadillac XT5 vs Porsche Macan

Both tenacious and tech-savvy, the dynamic Range Rover Velar has transformed the way that drivers view a luxury SUV. It's increasingly difficult to find another model in the segment that can match the seductive styling, capable performance, and premium comfort features included as standard across the Velar model range. To help demonstrate the excellence of the Range Rover Velar, Land Rover Easton has created this informative comparison. You'll see exactly how the Velar measures up against two of its biggest rivals – the Cadillac XT5 and Porsche Macan. Which SUV will earn the victory? Let's find out together!
Range Rover Velar vs Cadillac XT5
| | | |
| --- | --- | --- |
| 2024 Range Rover Velar S | VS | 2024 Cadillac XT5 Premium Luxury |
| $61,500 | Starting MSRP | $51,590 |
| 247 HP / 269 LB-FT TQ ✓ | Horsepower / Torque | 235 HP / 258 LB-FT TQ |
| Standard ✓ | All-Wheel Drive | Optional |
| 5,291 pounds ✓ | Towing Capacity | 1,000 pounds |
| Double Wishbone ✓ | Front Suspension | Strut |
| 34.4 cubic feet ✓ | Cargo Capacity (behind back seats) | 30 cubic feet |
| 38.2 inches / 38 inches ✓ | Headroom (front / rear) | 37.9 inches / 36.6 inches |
| 11.4 inches ✓ | Infotainment Touchscreen | 8 inches |
| LED with animated turn signals ✓ | Taillights | Halogen |
| Up to 21 inches ✓ | Wheels | Up to 20 inches |
Scroll Right to View Information
First up against the Velar is a favorite of the Cadillac lineup, the XT5. This has been a big seller for a while, and a relatively low starting price is probably a big part of why. But when we take a look at what that money gets you, especially when compared to the Velar, it doesn't look like such a good deal anymore. For one, it's less powerful. There is a more powerful optional engine, but the Velar has one of those too, and again, it produces more power. All-wheel drive, which comes standard on the Velar, will add another $2,000 to the price of the XT5. Although adding this option won't improve the abysmal towing capacity offered by the XT5. And don't think you can make up for the poor towing capacity by storing cargo in the XT5, as the Velar wins in that category too.
Behind the wheel, you'll appreciate the Velar's double-wishbone front suspension, a setup that connects to the frame in more places and allows for more precise control than you'll get from the strut suspension in the XT5. And while you appreciate this, your backseat passengers can appreciate the extra headroom the Velar offers. You'll also get a bigger infotainment touchscreen, making it easier to see and operate than the small 8-inch unit in the XT5. On the exterior, the available 21-inch wheels and LED taillights with animated turn signals make for a visually appealing addition to a vehicle that is already head and shoulders above the competition when it comes to style.
Range Rover Velar vs Porsche Macan
| | | |
| --- | --- | --- |
| 2024 Range Rover Velar S P250 | VS | 2023 Porsche Macan |
| $61,500 | Starting MSRP | $60,900 |
| 22 / 26 / 23 | MPG (city/hwy/combined) | 19 / 25 / 21 |
| 8 | Transmission Speeds | 7 |
| Standard | Over-The-Air Software Updates | Not Available |
| Apple CarPlay and Android Auto | Smartphone Integration | Apple CarPlay Only |
| Standard, Smart Device | Remote Start System | Not Available |
| Standard | Automatic Emergency Braking | Not Available |
| Standard | Blind Spot Monitoring | Optional |
| Standard | Adaptive Cruise Control | Optional |
| Standard | Power Moonroof | Optional |
| Standard | Power Lumbar Support | Optional |
| 34.4 cubic feet | Rear Cargo Volume | 17.2 cubic feet |
Scroll Right to View Information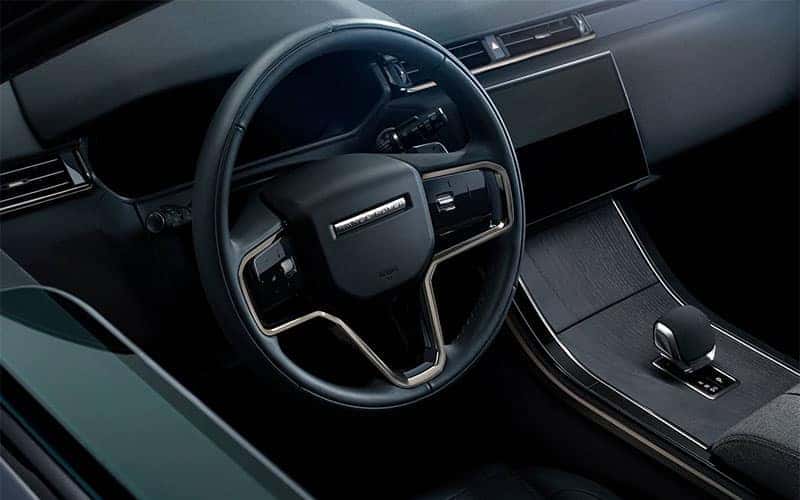 Next up to challenge the Range Rover Velar is the Porsche Macan. Just as we saw in the prior matchup, the slight price advantage for the Macan evaporates rather quickly once we take a closer look at the details. Across all three categories of MPG measurements, the Velar is the more fuel-efficient SUV of the two. A more sophisticated 8-speed automatic transmission contributes to this efficiency as well.
Technology remains a strong suit of the Velar as well, boasting far more cutting-edge innovations and connectivity features than the Macan. For example, a remote start system and over-the-air software updates add convenience to the Range Rover Velar. While Velar drivers benefit from both Apple CarPlay and Android Auto smartphone integration, the Macan laughably does not include Android Auto integration on any model.
Active safety features help the Velar stand above the Macan. Automatic emergency braking, adaptive cruise control, and blind spot monitoring are each included as standard for enhanced peace of mind behind the wheel. You'll have to pay extra at Porsche in order to receive similar equipment. Similarly, a power moonroof and power lumbar support contribute to the upscale feel inside of the Velar. Last but not least, a minuscule 17.2 cubic feet of rear cargo room may force Porsche Macan drivers to pack light on their next weekend getaway.
Winner — Range Rover Velar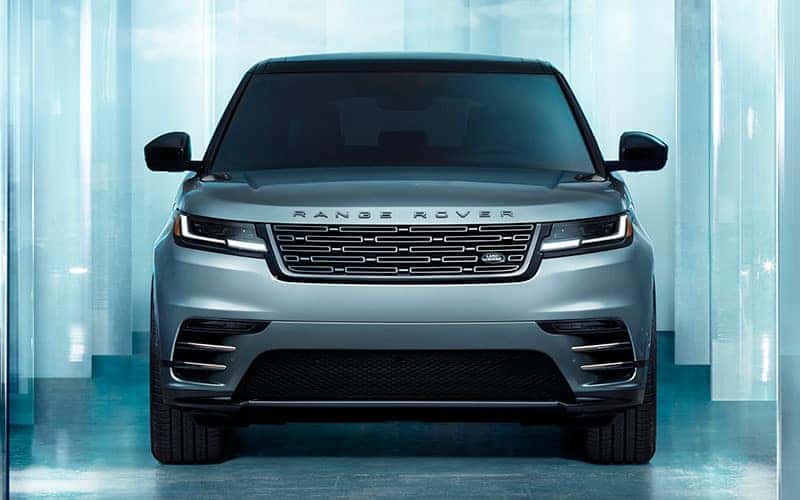 Without question, the winner of this competitive comparison of luxury SUVs is the Range Rover Velar. The Cadillac XT5 and Porsche Macan are simply no match for the outstanding performance capabilities, premium standard features, and innovative technology found on every Range Rover Velar. Eager to experience all that the Velar has to offer for yourself? Visit us today at Land Rover Easton to find the model that's perfect for your lifestyle.