2023 Defender vs Ford Bronco

When it comes to off-road adventure, it's only natural that you'd crave nothing but the best in terms of capable performance, rugged styling, and innovative tech features to help you explore the path less traveled. One of the most instantly recognizable nameplates among off-road enthusiasts is the Defender. Known for its reputation for conquering some of the world's most inhospitable terrain, the Defender has captured the hearts of drivers all across the globe.
To demonstrate exactly how the Defender continues to set the benchmark for adventurous off-road vehicles, our team has assembled this competitive comparison. You'll see how the Defender fares against one of its biggest rivals – the Ford Bronco. Which one of these iconic models will earn the victory? Let's find out!
Defender 110 vs Ford Bronco 4-Door
2023 Defender 110

VS

2022 Ford Bronco 4-Door

2.0L Turbocharged I4 (296 HP)

3.0L MHEV I6 (395 HP)

5.0L Supercharged V8 (518 HP)
Available Engines
2.3L Turbo I4 (270 HP)

2.7L Turbo V6 (310 HP)
8,201 pounds
Max Towing Capacity
3,500 pounds
Adaptive Dynamics
Adaptive Suspension
Not Available
28.0 / 40.0 degrees
Breakover / Departure Angles
26.3 / 37.0 degrees
10
Exterior Color Choices
7
3
Interior Color Choices
1
5, 6, or 7
Seating Capacity
5
58.3 cubic feet
Max Cargo Volume
52.3 cubic feet
4 Years / 50,000 Miles
Basic Warranty Coverage
3 Years / 36,000 Miles
4 Years / 50,000 Miles
Roadside Assistance Coverage
3 Years / 36,000 Miles
Scroll Right to View Information
To begin this competitive comparison, let's take a look at the performance figures for both of these iconic SUVs. Choosing the Defender means that you'll be able to select from three distinct engine choices ranging from a turbocharged 4-cylinder, MHEV inline-6, and even a supercharged V8. All three of these engines deliver superior horsepower than what's available on the Ford Bronco. Disappointingly, the Bronco only offers two turbocharged engine options that lack the power of the equivalent engine found on the Defender. This is especially evident when comparing maximum towing capacities. The Defender delivers nearly 5,000 pounds of towing capacity (when properly equipped).
Whether your adventure takes you off the beaten path or downtown for dinner and a show, the Defender has the advantage with its standard adaptive suspension. You can easily absorb imperfections in the road and conquer some of the most challenging terrains. For comparison, the Bronco does not offer an adaptive suspension. Speaking of harsh terrain, the superior breakover and departure angles make it easier to clear obstacles behind the wheel of the Defender 110.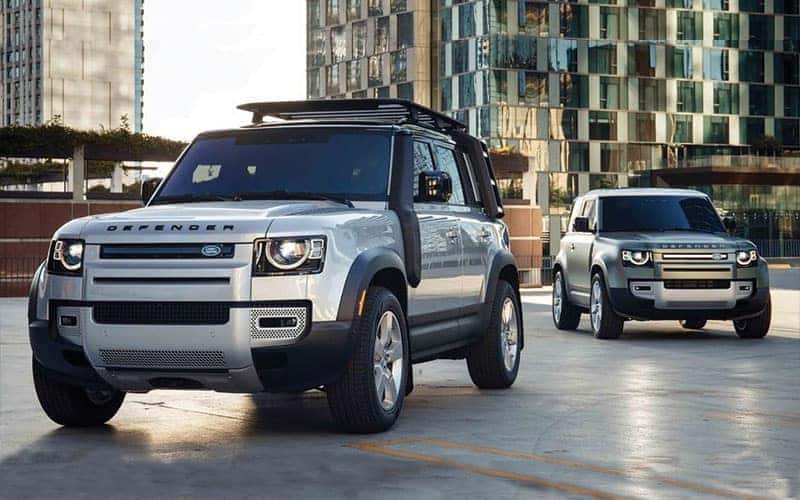 In terms of customization options, the Defender offers more exterior and interior color options to reflect your own unique personality. Bronco owners will have to settle for fewer personalization options. This same lack of flexibility is evident when comparing both of the interiors of these SUVs. Shoppers can choose from 5, 6, or even 7 passenger interior configurations inside of the Defender. Better still, the Defender offers more cargo room than the Bronco to help you bring all of your gear along for the next adventure.
Long-term confidence and peace of mind also come standard when you choose Land Rover over Ford. You'll receive longer basic warranty coverage on your Defender compared to the Bronco. Even better, Land Rover also includes a longer term of roadside assistance protection to ensure that you're never alone on the roadways.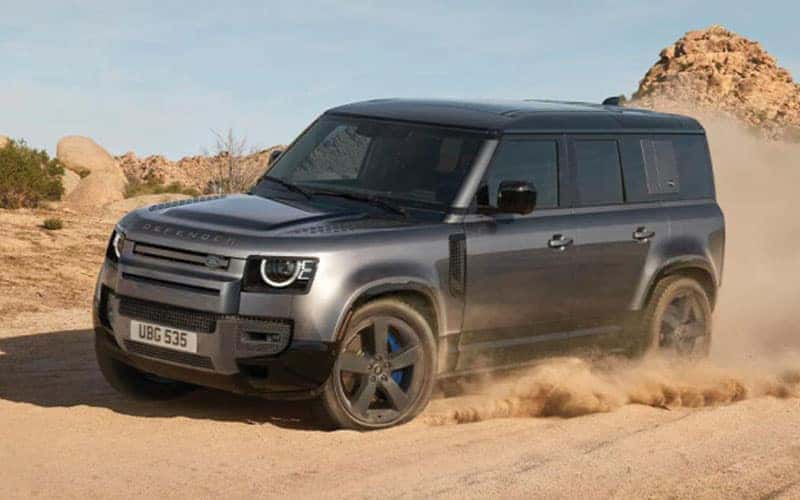 Winner – Defender
Now that we've tallied the results and crunched the numbers, the obvious winner of this matchup of off-road titans is the Defender. The Ford Bronco is simply unable to match the proven performance, versatility, customization options, and long-term confidence found across the entire Defender model range. Ready to experience the legendary Defender for yourself? Visit us today at Land Rover Easton to find the model that's perfect for your lifestyle.