Discover the Best Off-Road Accessories for Your Land Rover Defender

As one of the most iconic vehicles in the history of the Land Rover brand, the Defender has earned a cult following with drivers all across the globe. Naturally, these passionate fans are always eager to add a personal touch to their vehicles. If you're having a tough time deciding which accessories are best for your Defender, Land Rover Easton is here to help! We've assembled this quick reference guide that covers our top Land Rover Defender accessories. Let's dive in!
Top Land Rover Defender Accessories
---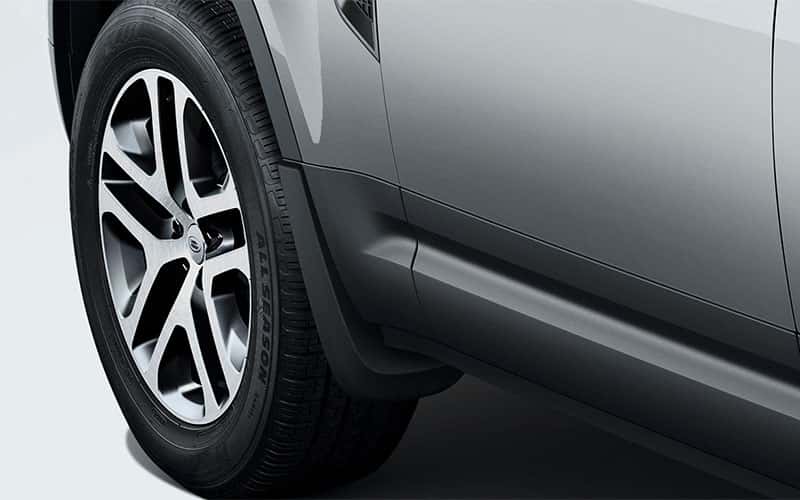 Mud Flaps
Searching for a way to protect the paint finish of your Defender from dirt and debris while adding a touch of style to the exterior? Mud Flaps are the perfect solution, featuring a precision fit and molded design for exceptional durability.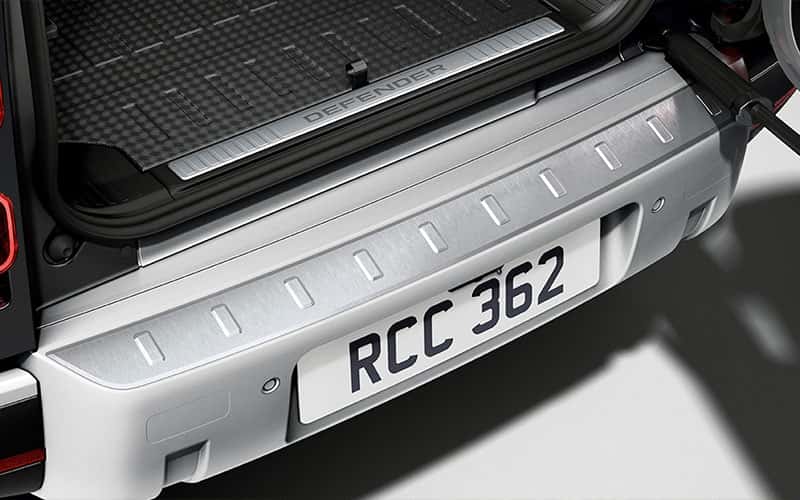 Bright Rear Scuff Plate
Constructed with stylish and durable stainless steel, this clever rear scuff plate offers a combination of eye-catching good looks and functional protection. Your bumper will be protected from scratches and scuffs from loading cargo and while the vehicle encounters off-road brush.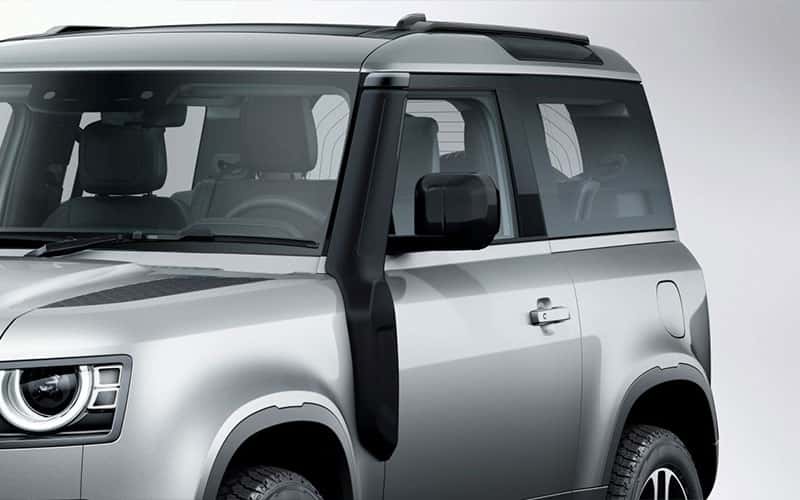 Raised Air Intake
Best suited for off-road adventures involving dusty or sandy conditions, the Raised Air Intake safeguards the engine of the Defender. It does so by drawing in cleaner air from an elevated location above the hood, reducing the number of harmful particles drawn into the air filter.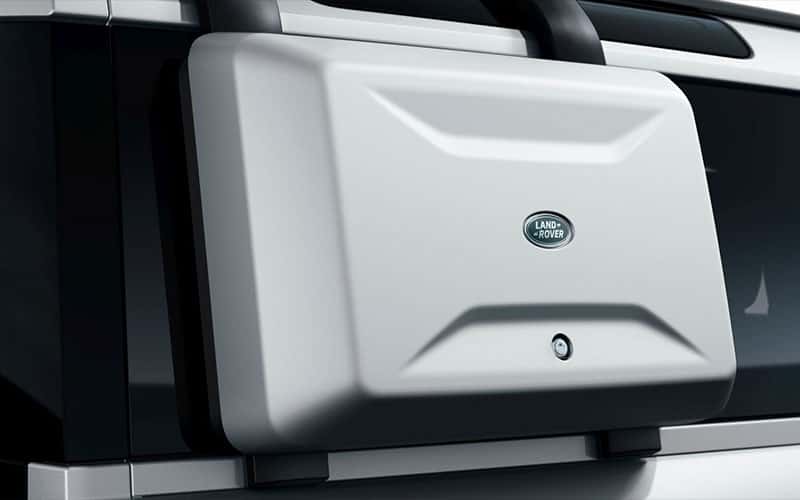 Exterior Side-Mounted Gear Carrier
Add lockable, waterproof, and easily accessible storage to your Defender with this exclusive Side-Mounted Gear Carrier. Its aerodynamic design reduces wind noise and comes finished in Ceres Silver Satin with a Land Rover badge. This is the perfect solution for transporting gear or cargo that you prefer not to carry inside the vehicle.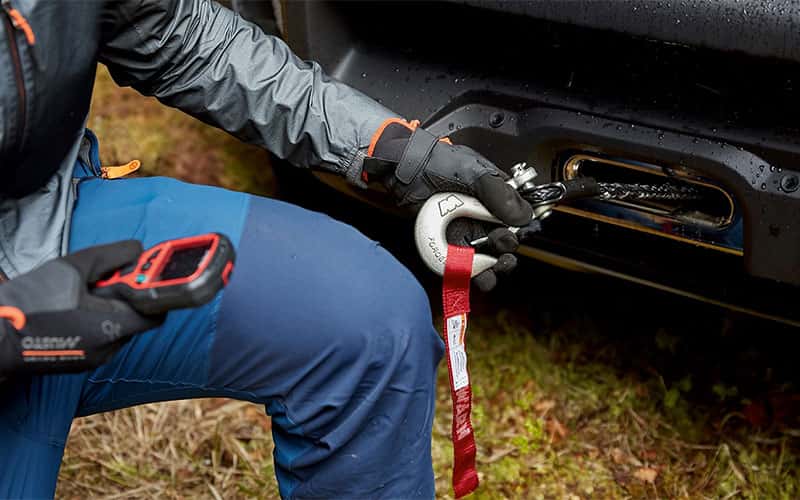 Remote Control Electric Winch
Boost the recovery capabilities of your Defender with this powerful electric winch. Manufactured by Warn, this remote-controlled winch has a maximum full force of up to 10,000 pounds. It's both practical and user-friendly, making it an essential accessory for any off-road enthusiast.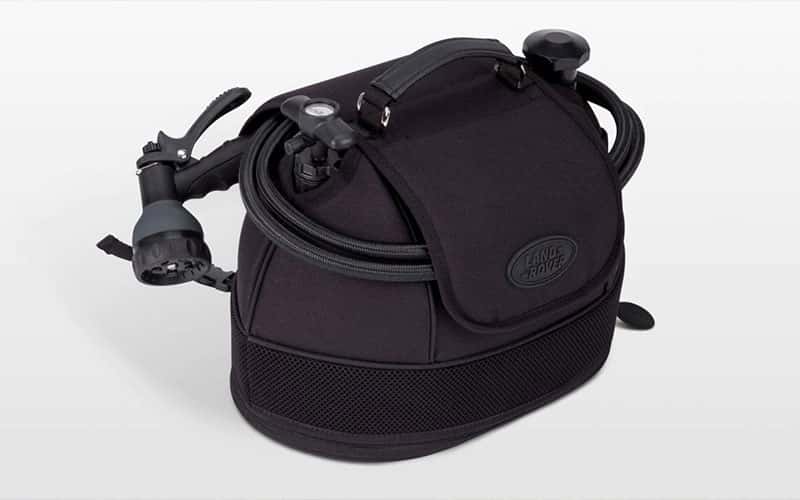 Portable Rinse System
Intended for use outside the vehicle, the Portable Rinse System is the ultimate solution for cleaning outdoor equipment like bikes, wetsuits, and hiking boots before storing them in the vehicle. Without batteries or external power, this clever system can deliver a minimum of two minutes of continuous water flow via a shower hose.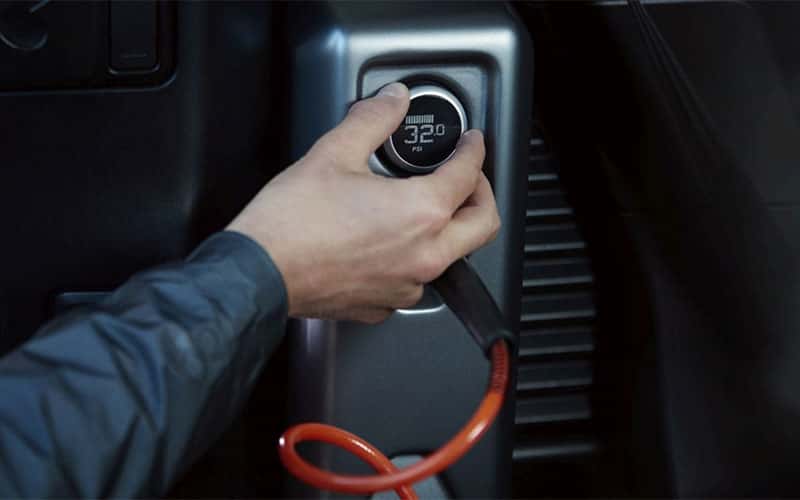 Integrated Air Compressor
Especially useful for inflating tires, air beds, water inflatables, and much more – this Integrated Air Compressor adds capability on-board your Defender. Integrated into the loadspace area, the compressor also includes an extendable hose, 600D nylon black bag, and Land Rover branding.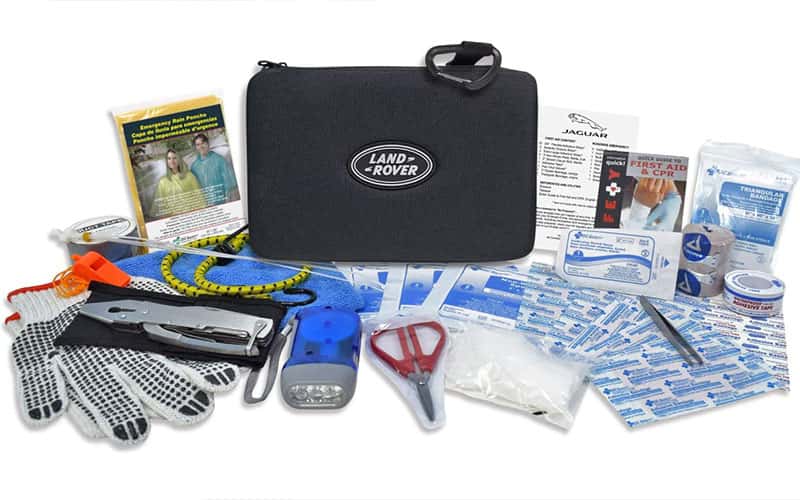 Emergency Pack
You just never know what your next adventure will have in store for you. This handy Emergency Pack combines essential first aid supplied with roadside emergency equipment. When the unexpected strikes, you'll have everything necessary to address the situation neatly organized in a single carrying case.
---