2022 Land Rover Defender 110 vs. Toyota Land Cruiser

When it comes to off-road icons, without question the two most coveted and adored vehicles across the globe are the Land Rover Defender and the Toyota Land Cruiser. Each has rightly earned its place in the history books for its proven performance capabilities combined with exceptional creature comforts to make even the most inhospitable terrains feel mundane.
With the arrival of the next-generation Land Rover Defender, you might be wondering exactly how these two familiar rivals measure up against each other. Land Rover Easton understands your curiosity and has created this in-depth model comparison with you in mind. Let's take a closer look at exactly how the Defender 110 matches up against the Land Cruiser. Which one will earn the victory? We'll find out!
Land Rover Defender vs Toyota Land Cruiser
| | | |
| --- | --- | --- |
| 2021 Land Rover Defender 110 X-Dynamic HSE | VS | 2021 Toyota Land Cruiser Base 4X4 |
| $72,500 ✓ | Starting MSRP | $85,415 |
| 395 HP / 406 LB-FT ✓ | Horsepower / Torque | 381 HP / 401 LB-FT |
| 17 / 22 / 19 ✓ | MPG (city/highway/combined) | 13 / 17 / 14 |
| 5,035 pounds ✓ | Curb Weight | 5,815 pounds |
| 20 inches ✓ | Wheel Size | 18 inches |
| 34 cubic feet ✓ | Rear Cargo Volume | 16.1 cubic feet |
| Standard, Smart Device ✓ | Remote Start System | Not Available |
| Power 10-Way, 4-Way Power Lumbar ✓ | Front Seat Adjustability | Power 8-Way, 2-Way Power Lumbar |
| Interactive Driver Display (Digital) ✓ | Instrumentation | Analog |
| 360-Degree Parking Aid ✓ | Parking Sensors | Front/Rear |
| 4 Years / 50,000 Miles ✓ | Basic Warranty Coverage | 3 Years / 36,000 Miles |
Scroll Right to View Information
Although these two SUVs have been rivals for decades, the debut of the next-generation Land Rover Defender created a buzz among off-road enthusiasts. We've taken a well-equipped Defender 110 X-Dynamic HSE and compared it against the base Land Cruiser. Right from the very start, the Land Rover enjoys an astounding $12,915 price advantage over the Toyota. Let's see exactly what you'll get for this extra money on the Land Cruiser. Hint: it's not much!
Before we dive deeper into the details, 2021 was the final year of production for the Toyota Land Cruiser in the United States market. This certainly calls into question future parts and service availability for the now discontinued Land Cruiser. It certainly makes more sense to trust the recently-reintroduced Land Rover Defender.
The cutting-edge P400 MHEV powertrain found on the Defender 110 X-Dynamic HSE offers the best of both worlds. You'll experience greater horsepower and torque compared to the ancient 5.7L V8 of the Land Cruiser, giving you more muscle to tackle challenging terrain. Better still, the Defender delivers significantly higher fuel economy ratings across all three MPG categories. More power and more efficiency? Sounds like a win-win situation to us.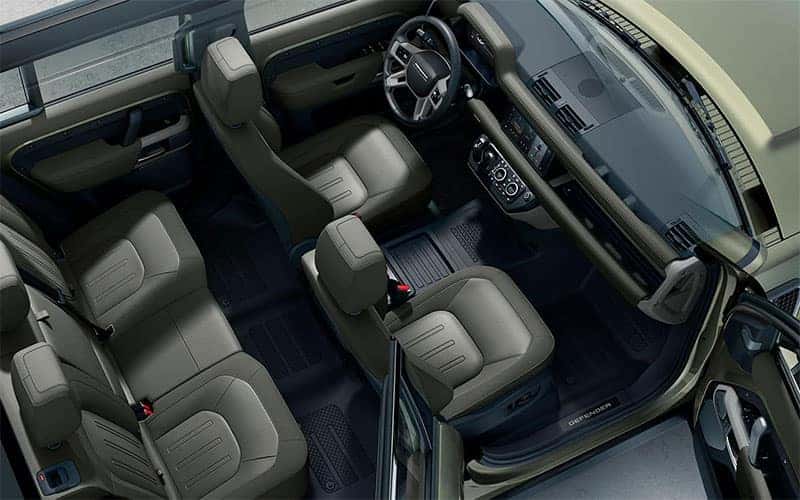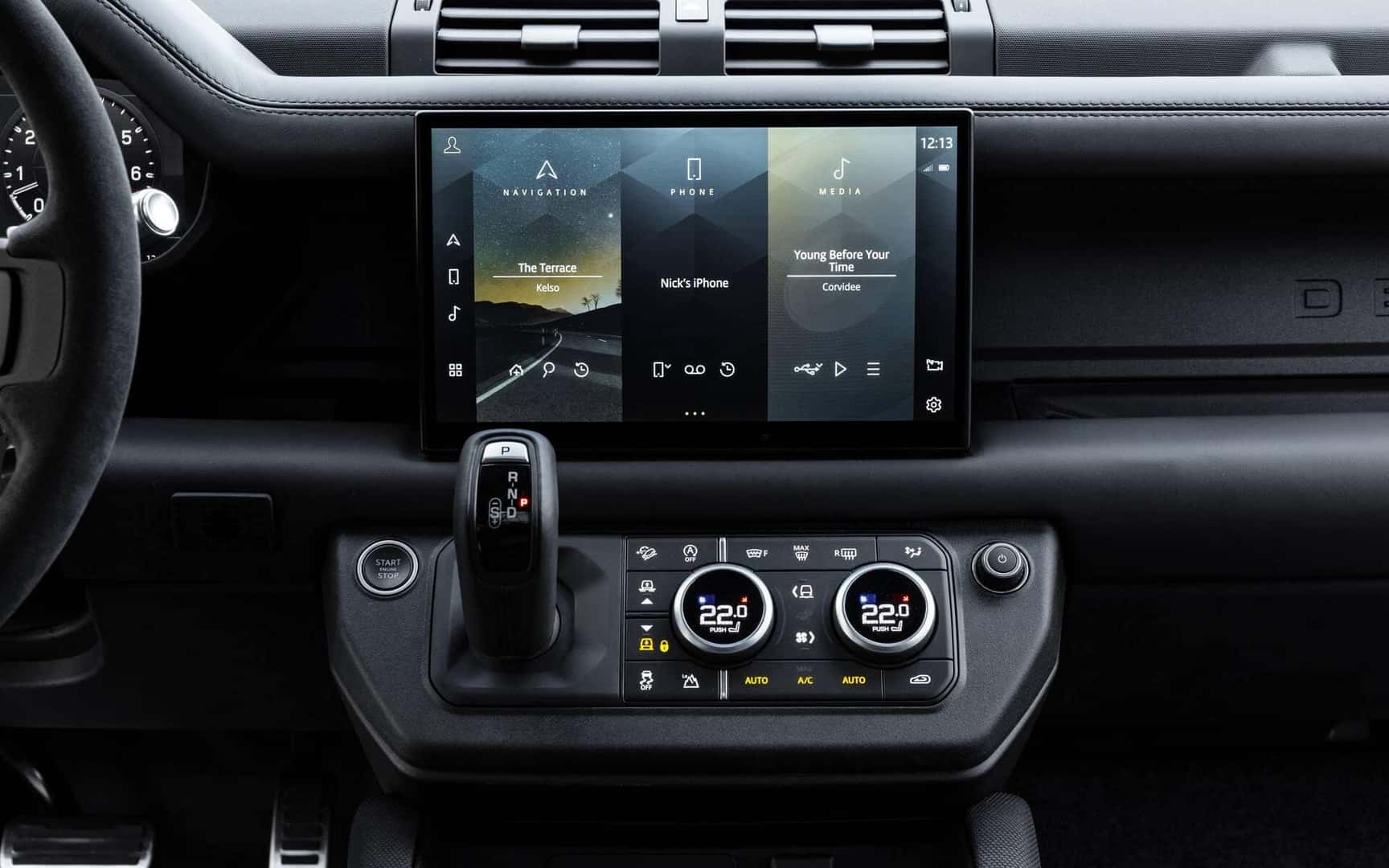 An 800-pound curb weight advantage also helps the Defender 110 more easily maneuver through tricky situations compared to the far heavier Land Cruiser. Larger 20-inch wheels also provide a more commanding stance on the road. Premium standard features such as a remote start system further increase the premium feel of the Defender. If you're frequently traveling with a mix of passengers and cargo, the massive 34 cubic feet of rear cargo space inside the Defender 110 will surely come in handy.
More comfort adjustments for the front seats further highlight the luxurious feel inside the cabin of the Land Rover. While Land Cruiser owners are forced to settle for analog gauges, the Defender 110 comes standard with an Interactive Driver Display featuring customizable readouts. A more sophisticated 360-degree parking camera and longer basic warranty coverage round out the extensive list of reasons why the Land Rover Defender 110 is a better choice than the Toyota Land Cruiser.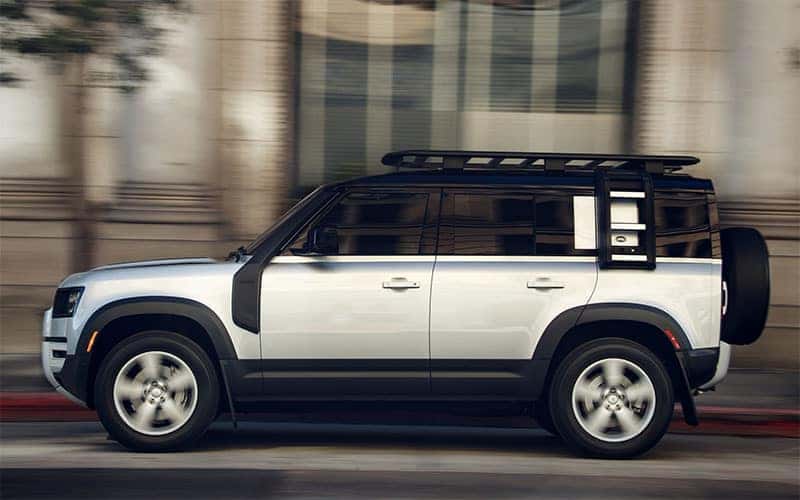 Winner – Land Rover Defender 110
After comparing these two legends side-by-side, the clear winner of this matchup is the dynamic Land Rover Defender 110. The Toyota Land Cruiser simply cannot match the outstanding value, performance, versatility, and premium standard features found on the Defender 110. Land Rover Easton cordially invites you to come and experience the tremendous Land Rover Defender 110 for yourself and see why drivers from all across the country are making the switch to Land Rover.