2023 Land Rover Defender 90 vs. Land Rover Defender 110

At the heart of Land Rover's sterling reputation for building tough off-road machines is the Defender. The most off-road-focused model in the lineup, the Defender has seen service all over the world in some of the most treacherous conditions imaginable. But the Defender wasn't sold in the US from 1997 until just recently, so Land Rover Easton put together this comparison to help you tell the different types of Defender apart.
Defender 90 VS Defender 110 – Quick Comparison
Defender 90

VS

Defender 110

$55,100
Starting MSRP
$53,500
2.0-liter I4
3.0-liter I6 with mild hybrid system
Available Engines
2.0-liter I4
3.0-liter I6 with mild hybrid system
4-wheel-drive with locking differentials
Drivetrain
4-wheel-drive with locking differentials
5/6
Seating Capacity Configurations
5/6/7
2
Doors
4
170.2 inches
Length
187.4 inches
37.2 inches
Rear Headroom (with panoramic roof)
40.4 inches
10.5 cubic feet
Cargo Capacity
34 cubic feet
24.2° (coil suspension)
30.7° (air suspension)
Ramp Angle
22.2° (coil suspension)
27.8° (air suspension)
Scroll Right to View Information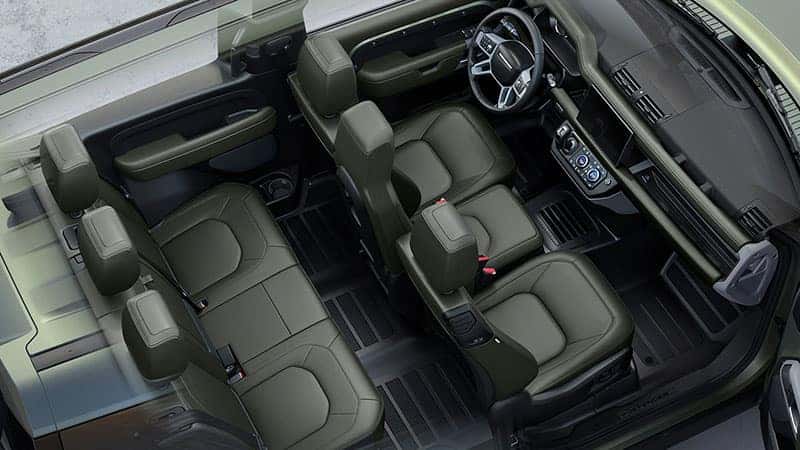 Flexible Configuration
The 90 and the 110 are ultimately both Defenders, and there are a lot more similarities than there are differences. Same engines offered, same transmission and drivetrain, and almost all the same trim levels. The difference here accounts for the difference you see in the price. The base trim of the 90 is the Defender S, while the 110 has a base Defender trim that is a little more stripped down. But obviously, the biggest difference is that the 90 has two doors to the 110's four. The extra doors on the 110 also come with more than 17 inches of additional length. That length gives the 110 more cargo room, a lot more, and there's even an option for a third-row bench. Even though the 90 is shorter and down two doors from the 110, rear legroom is identical, and it's actually rear headroom that is the only place your passengers will notice a slight difference in passenger space.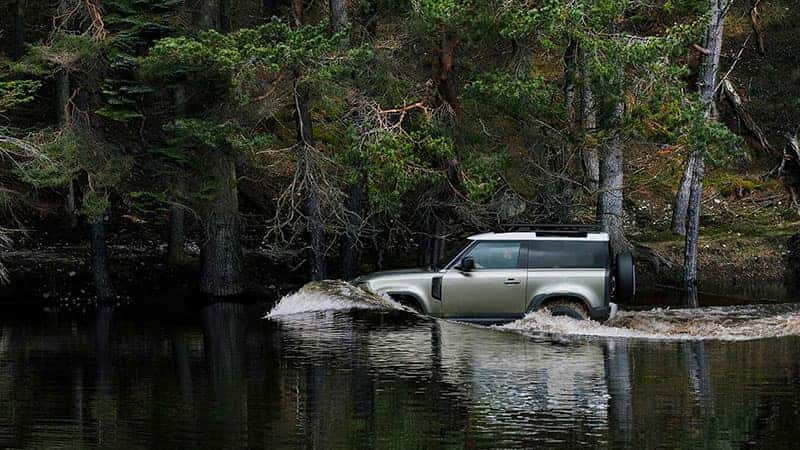 Purposeful Design
The Defender is a comfortable and well equipped vehicle, but it's chief purpose is to handle tough conditions. Both the 90 and the 110 have a maximum wading depth of 35.4 inches, better than you'll find on a Jeep Wrangler. There is available air suspension that raises ride height from 8.9 inches to 11.5, and makes for a more comfortable ride on especially bumpy terrain. Ramp angle is one of the only areas where the 90 and 110 differ in how they handle tough terrain, but as you can see from the chart, the difference is minor, and suspension setups make a much bigger difference. Whichever Defender you choose, there is a wide range of trims and options, many of which are intended for off-road. There are mudflaps, wheel arch protection, a heated windshield and washer jets for cold weather, and a raised air intake to protect the engine in particularly sandy or dusty conditions.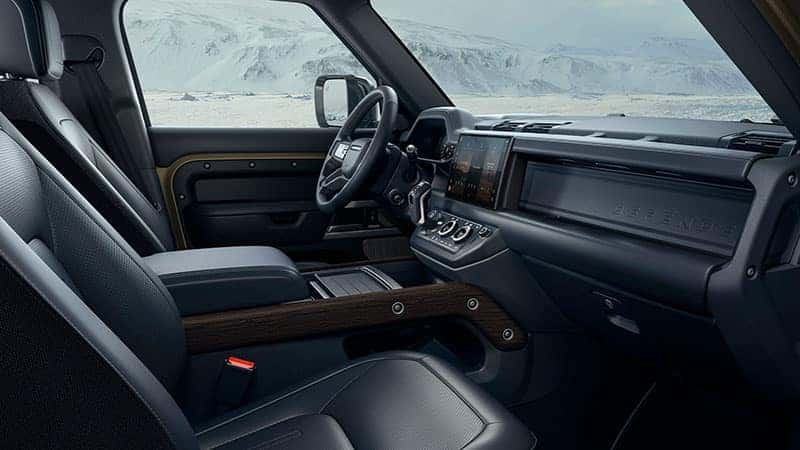 Practical Luxury
Land Rover is a brand that has been doing an expert job of blending utility and luxury for decades. The interior of the Defender reflects this in a way that only a company with a history like Land Rover's could have built. The seats are comfortable, with a 14-way heated and cooled option, but you also have the option to finish them in Resist, a material designed to be soft, but also easy to clean. Of course Windsor leather is available too, if you prefer. Things like dual-zone climate control, an 11.4-inch touchscreen Pivi Pro infotainment system with Apple CarPlay and Android Auto integration, navigation, and an onboard WiFi hotspot all come as standard. There is also a 10- or 14-speaker Meridian stereo system available. With so many configuration options, Land Rover is leaving it up to you how you want to use your Defender, and that includes offering both a 90 and 110 version. A visit to Land Rover Easton and a chat with our friendly and knowledgeable team can help you determine which Defender is right for you.